Meicheng Chiang, M.D., Ph.D.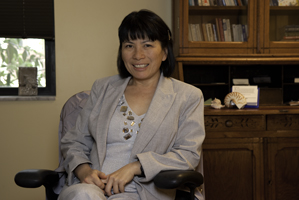 Meicheng Chiang, M.D., Ph.D.
Dr. Chiang received her Ph.D. in Cell and Developmental Biology from Purdue University and her M.D. from the Ohio State University College of Medicine. She completed her psychiatric residency training at Wright State University Boonshoft School of Medicine. She is Board Certified in Psychiatry by the American Board of Psychiatry and Neurology, and has completed a two year post-residency program in Child and Adolescent Advanced Psychotherapy and six years of psychoanalysis.
Dr. Chiang's research interests range from basic biological science to psychiatric illness. Treatment for her psychiatric patients involves a combination of pharmacological therapy and psychotherapy. Her psychotherapy approaches include CBT, psychodynamic and supportive psychotherapy, and play therapy, whichever proves to be appropriate and effective under the circumstances. She has helped children, adolescents, and adults with ADHD, anger, anxiety, self-harm, paranoia, PTSD, depression and bipolar disorder. She is a member of the American Medical Association, the American Psychiatric Association, and the Ohio Psychiatric Association.